Sonja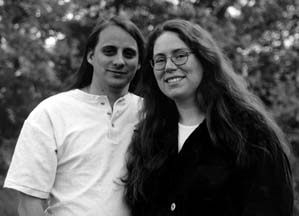 Sonja & John, May 1997
I've been married to John Pfeifer since 1993, and am currently homeschooling our kids, Erika, and Karl.
John and I met at Penn State University, where he earned a B.S. in Computer Science with a minor in Mathematics, and I earned a B.A. in German, with an emphasis on Literature and a minor in Linguistics.
Before deciding to stay home full-time, I worked at the University of Maryland in the Office of Information Technology, where I managed IT support operations. While I was there, I took advantage of the tuition remission program and earned an M.S. in Computer Systems Management.
My interests include playing board games, reading, photography, and travel.
Links
Our travels, including those of Rick, our travelling fox
PSU CAC Lab Ops, or, what I did in college when I should really have been studying.